The time for back-to-school and the end of the big holidays has come. In companies this period is a resumption of activity after a long period of inactivity. What if Team Building was the right idea for the new school year?
What is a Team Building?
The concept of team building has been in fashion in the world of work for several years now. In any company with a large number of people, it is sometimes vital to do activities with colleagues outside the professional framework, in order to break the routine, to weld the teams, and simply to get to know each other better on a personal level. This is where team building comes in: team building is a fun, sporting and cultural activity for the employees of a company, carried out collectively by the whole group whose goal is to strengthen and weld the links between people around the company's project.
This concept now includes other activities such as training in stress or human factors, of which AviaSim is a specialist in France.
What are the advantages of a back-to-school seminar?
Here are the 10 benefits you'll get during a Team Building session in September:
Renews links in the company after a long period of absence. Team spirit will then be at the rendezvous to tackle the last part of the year
Alleviates potential conflicts that may have arisen during replacements or periods of absence
Facilitates communication and updating of information. While part of the team was on vacation the replacements continued to work, it is important to update the information.
Encourages creativity to find the best ideas to work on in the last quarter and prepare for the next year. Whether artistic or creative, Team Building is the perfect time to reveal everyone's hidden talents.
Gives a modern and dynamic image in this professional re-entry. A real factor in membership and loyalty, a team building day communicates a good image of the company and highlights its values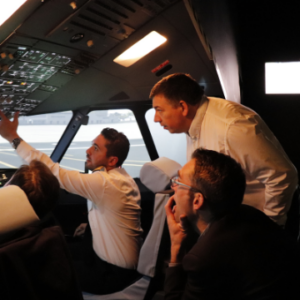 Sharing a good time with your colleagues. Everyone will have holiday memories to share and this will contribute to the general good atmosphere
Mobilises the various skills of your employees by choosing relevant activities, you highlight the skills of each individual, including the ability to react to new developments.
Boosts employee motivation through the activities, employees will appreciate this initiative and will subsequently be more motivated to see more involved in their work especially to face the last quarter.
A better knowledge of your colleagues by sharing a Team Building day, employees learn to rediscover themselves.
Discover new activities by testing new activities (such as the flight simulator) it opens up new horizons.
Why choose AviaSim for its next seminar?
The AviaSim experience for Team Building and seminars is unprecedented. It offers an experience in a real realistic flight simulator accompanied by colleagues and a flight instructor.
This activity is present in more than 17 cities in France and Belgium and allows to organize both a meeting, the meal and the seminar activity.
Doing your back-to-school seminar at AviaSim is:
Offering a unique experience to its employees
Discover the line pilot business and transversal best practices
Do not have to travel between the meeting and the event
Leaving with a motivated and happy team
Enjoy the facilities of our partners like Marriott